Craft Cocktail Mixology & Professional Private Bartender
My team and I are available for hire, make us your Private Bartender service in Los Angeles and surrounding areas. Celebrated Spirits can make you the host with the most! Any size of event, we have mastered the logistics to figure out the best way to create a bar on site for your celebration.
Get in touch using the form below and we can begin a dialogue about your event, if there are themes we can incorporate them into the drinks and menu creation. Give me some ideas and I can build you some crafty cocktails perfect for your party.
Celebrated Spirits is a division of Fork In the Road and operates out of the Rose Room Venice Beach CA. We are fully licensed to perform private bartending in Los Angeles, fill out the form below with information about your site and event, myself or someone will reach out to you immediately.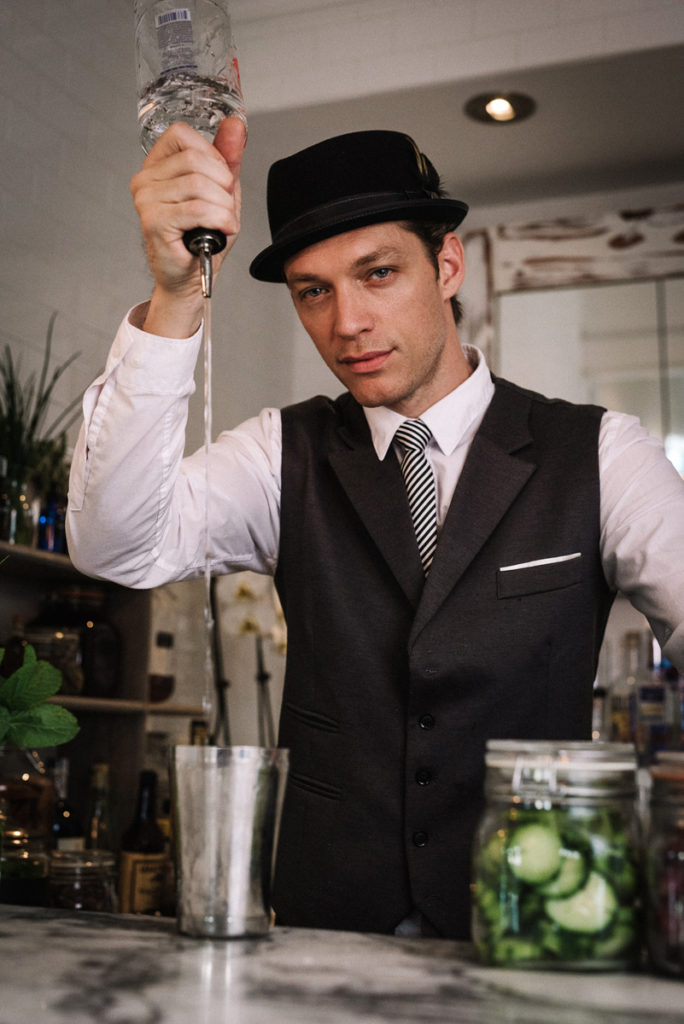 7+ Custom Mixology Cocktails

Is there a Theme or person of interest? We can go over some hits or invent a cocktail. Refreshing icy drinks poolside or classic cocktails with a mixologist touch either way everything will be made with only the best ingredients

Printed Menus & Cocktail Waitress

Choose your headline and name the drinks to highlight the theme and special occasion or person of the event

Full Bar Included

Not only will you have your own custom mixology menu, also included are the makings of a full bar, such as OF, Manhattan, Negroni spritzers, juices, sodas & tonic, Martini & castelvetrano olives

Includes Wine & Bubbly

Volume is dependent on the size of the event. We use beautiful, fabulous wines selected from small vintage vineyards and 100% Glera Prosecco from Italy.

Beer included

2 beers per guest paid. Want more beer/wine at the event? No Problem! Tell us your preference and we will have it on hand, additional charges apply. Or buy your own and we will serve it at no extra cost! The demand on beer/wine can be unpridictable per event so we keep it seperate to keep your costs managable

100% Juice Made Fresh

We literally make the juice for your event, fresh squeezed Lemon, Lime, Orange, Grapefruit, Pineapple puree, expelled organic cranberry. Fresh Juice, never concentrates, this makes a world of difference in a cocktail.

Premium Spirits

We dont skrimp on the small brands. We go with the best we can find for the all our cocktails, the bottles we serve are the ones that have earned their place for quality and taste.

Exotic Garnishes

Mint, Thai Basil, Thyme, Rosemary, Strawberries, Pineapple, Oranges, Lemons, Limes, Real Maraschino Cherries. All the intracacies of the cocktail produce and garnishes wil arrive with us.

Tools & Setup

All we need from you is a space to work. Don't have a bar? No Problem! We can bring one, just let us know in advance.

Ice / Glassware Delivery

Includes enough ice to fill drinks utill the completion of your event. The right glassware for the right cocktail. We will arrange for the glassware rental and it is included in this package

5 hour block - 25 guest minimum

5 Hours of pouring, our setup and cleanup is not included here. Need more time? No problem, we can make adjustments.

Includes 2+ Bartenders & 1+ cocktail server
4 Batched Mixology Cocktails

Our Modern Mixology batched for large parties. We will keep the batches flowing while your guests simply fill their cups from glass dispener jugs.

Includes Bubbly

Want to add wine? Let us know we can make adjustments. Or accuire your own and we will serve it for you. We serve 100% Glera Prosecco from Italy, Volume is dependent on the size of the event.

Beer included

2 beers per guest paid. Want more beer/wine at the event? No Problem! Tell us your preference and we will have it on hand, additional charges apply. Or buy your own and we will serve it at no extra cost! The demand on beer/wine can be unpridictable per event so we keep it seperate to keep your costs managable

100% Juice Made Fresh

We literally make the juice for your event, fresh squeezed Lemon, Lime, Orange, Grapefruit, Pineapple puree, expelled organic cranberry. Fresh Juice, never concentrates, this makes a world of difference in a cocktail.

Premium Spirits

We dont skrimp on the small brands. We go with the best we can find for the all our cocktails, the bottles we serve are the ones that have earned their place for quality and taste.

Exotic Garnishes

Mint, Thai Basil, Thyme, Rosemary, Strawberries, Pineapple, Oranges, Lemons, Limes, Real Maraschino Cherries. All the intracacies of the cocktail produce and garnishes wil arrive with us.

Tools & Setup

All we need from you is a space to work. Don't have a bar? No Problem! We can bring one, just let us know in advance.

Ice Delivery / Clear Bio-cups

This event includes 16oz clear biodegradable corn cups and enough ice to fill drinks utill the completion of your event

5 hour block - 50 guest minimum

5 Hours of pouring, our setup and cleanup is not included here. Need more time? No problem, we can make adjustments.

1 to 2+ Bartenders
2 Custom Mixology Cocktails

Our Modern Mixology batched for large parties. We keep the batches flowing while your guests simply fill their cups from glass dispener jugs. Also included are the makings of a full bar, such as OF, Manhattan, Negroni spritzers, juices, sodas & tonic, Martini & olives

2 Batched Mixology Cocktails

Our Modern Mixology batched for large parties. We keep the batches flowing while your guests simply fill their cups from glass dispener jugs. Also included are the makings of a full bar, such as OF, Manhattan, Negroni spritzers, juices, sodas & tonic, Martini & olives

Full Bar Included

Also included are the makings of a full bar, such as OF, Manhattan, Negroni spritzers, juices, sodas & tonic, Martini & castelvetrano olives

Includes Wine & Bubbly

Volume is dependent on the size of the event. We use beautiful, fabulous wines selected from small vintage vineyards and 100% Glera Prosecco from Italy.

Beer included

2 beers per guest paid. Want more beer/wine at the event? No Problem! Tell us your preference and we will have it on hand, additional charges apply. Or buy your own and we will serve it at no extra cost! The demand on beer/wine can be unpridictable per event so we keep it seperate to keep your costs managable

100% Juice Made Fresh

We literally make the juice for your event, fresh squeezed Lemon, Lime, Orange, Grapefruit, Pineapple puree, expelled organic cranberry. Fresh Juice, never concentrates, this makes a world of difference in a cocktail.

Premium Spirits

We dont skrimp on the small brands. We go with the best we can find for the all our cocktails, the bottles we serve are the ones that have earned their place for quality and taste.

Exotic Garnishes

Mint, Thai Basil, Thyme, Rosemary, Strawberries, Pineapple, Oranges, Lemons, Limes, Real Maraschino Cherries. All the intracacies of the cocktail produce and garnishes wil arrive with us.

Tools & Setup

All we need from you is a space to work. Don't have a bar? No Problem! We can bring one, just let us know in advance.

Ice / Glassware Delivery

Includes enough ice to fill drinks utill the completion of your event. The right glassware for the right cocktail. We will arrange for the glassware rental and it is included in this package

5 hour block - 40 guest minimum

5 Hours of pouring, our setup and cleanup is not included here. Need more time? No problem, we can make adjustments.

Includes 2 Bartenders or more
Kramer's Drinks
Fresh & Modern libations based on classics
these are just an example of what we can invent for your event