Refreshing Gin has been said to be the alcohol that leaves no trace on the breath. Well done accompanied by cucumber, a fresh Yuzu juice which is an asian fruit something close to a grapefruit-crossed-lemon. A splash of ginger beer, crisp and tall. Enjoy on a summer day or at lunch.
Specially developed for the menu of The Larchmont on Melrose and Lucerne in Los Angeles. This Drink is a crowd pleaser, the yuzu and splash of ginger beer give this cocktail a dry finish. Mint is an option, either way you cant go wrong.
For the cucumber i recommend a mandolin slicer, it's the only way to get the slices super thin, the thinner the better, and i would not skip using the peeler to stripe the cucumber before you start, it gives the cucumber a nice look and gives even more area for the cucumber juices to release from. Would don't muddle the cucumber, because the ice will do it for you when you shake this drink, however if you do decide to muddle i would suggest a light muddle with just the lime and cucumber slices in the shaker, don't go crazy with the muddling or you will have cucumber mush and an unattractive cocktail.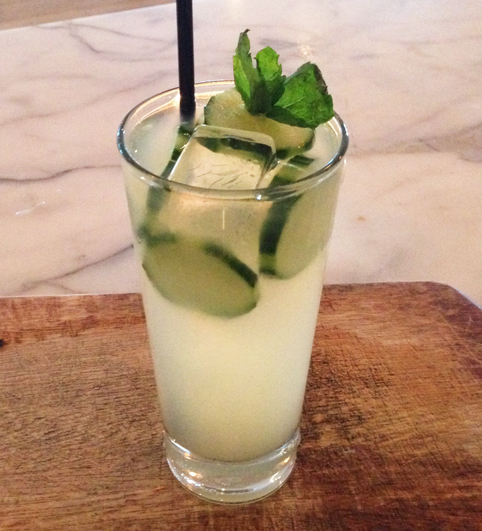 Gin Cucumber Soda
Bright, dry, refreshing, goes down easy with very little alcohol taste
Genre: Breezy
Mood: Refreshing Cocktail
Spirit: Gin
what's in it
Cucumber
Lime
Yuzu
Gin
Orgeat
Ginger Beer
Soda
Mint
how to do it
into shaker: 4 or 5 cucumber slices (thinner the better), .5 oz lime, less than .25 oz of yuzu, 2 oz gin, .25 oz orgeat, 1 mint sprig (optional), fill ¾ with ice
shake and dump all contents into a 12 – 14 oz collins glass
top off with approx .5 oz ginger beer and splash of soda
garnish with mint
key info
*Drink Volume: 12 – 14 oz *Glass: collins *Swetener: .25 oz orgeat *Alc volume: 2 oz *Alc strength: 47%